Scrap Retreat anyone?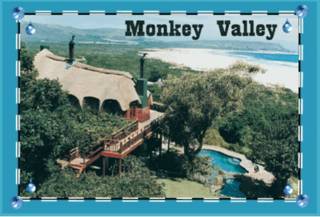 I am so serious about wanting to organise a scrapbooking retreat, like I posted earlier, I have been getting provisional quotes to see what it would cost, and whether or not it would be viable. One of the best places I have found so far is
here
. Monkey Valley is a resort that is well known for hosting conferences and team building days. The weird thing though is that it is just minutes from my house. I always thought that it would be better to get in a car and drive somewhere for an hour or two - but when you have views like this who needs to? Plus it is within 40 minute drive for anyone living in Cape Town & surrounds. This would also make it cheaper for some folk as they don't have to drive as far. We wouldn't be sacrificing anything by staying near the city though because this place is renowned for it's peace, tranquility and fabulous views. They also have conference facilities which would suit about 20 people. (Actually they can accommodate more - but anyone who knows a scrapper - knows that they like to scrap with SPACE.) Plus we'd need space for a vendor or two to set up shop and flog us all their merchandise. If Michele and I are anything to go by, then they know that they will make extreme amounts of cash off us. I stand by my original plan though that a portion of the proceeds MUST go to an animal charity. Cropping for a Cause makes the crop that much more fun, and meaningful, and I can just see this becoming and annual Capetonian scrapping event. Now, just when should it be held? Since SDU 2005 is happening in March, and most scrappers are going to that are willing to fork out R1500.00 for that, I think that the retreat should be in April or May next year. So that a) people have time to save up to go & have some spending money, and b) it isn't the middle of summer and people would rather go to the beach than spend the day indoors scrapping. OK folks, I'm officially open to suggestions! Ideas! Encouragement! Bring it on!