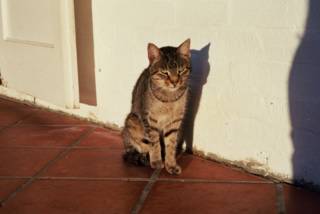 My little Snowy was laid to rest today. I am so sad. He was one of the pair that we took in when they were abandoned by our freakishly cruel neighbors when they moved away without him. We discovered that something was wrong with his teeth, hence he would always prefer soft food to the pellet kind. Anyway, I took him off to the vet to get his teeth sorted this morning, as this would most certainly also sort out his 'inability to gain weight' problem. Alas, but we discovered that he was suffering from Cat Aids. Thankfully he has not had any sexual contact with our other three beloved furry children, nor any fights where blood was drawn. So they are in the clear. I have been crying all morning and am just managing to keep it together right now.
Go well my Snowy, know that you are loved with my whole heart. I hope that the last six months that you lived with us, we made your life a little better, warmer, friendlier, and that you finally got to experience real love. I will always remember you.
If you get lonely in the great beyond, look up 3 old ginger pals of mine, Perky, Mickey & Buddy, they spent 17 years of their lives with me before taking the journey to the other side. Perhaps you can share a tray of catnip with them and reminisce about old times?
I love you boy.