Scrapping Mania!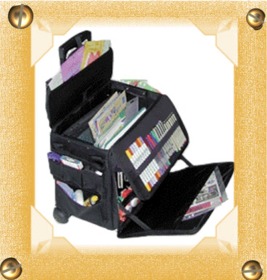 Scrapping Mania!

Yesterday I received my class schedule for scrapbooking for October and I have booked in for two classes. I had a quick chuckle at Michele from
www.windspirit.co.za
's new found enthusiasm for scrapbooking! Yay another person has found the most fun hobby in the world! Another scrapbooker in the world means that the industry is thriving, and that of course prices must come down now - because there are more of us out there buying stuff!! Speaking of which, I am dying to get myself one of these cool totes to lug my hoards of supplies around in. The thing is, that I found out it is cheaper to order them on the web, and get them shipped out here, than it is to buy them locally...hmm our
scrapbooking stores
are charging a bit much methinks. Ok, they need markups to survive and all but come on, you don't need to charge double the cost on such a large item! If you want to see more of these check out
www.cropinstyle.com
they have loads of products which I am just dying to flex the plastic money in order to buy!!