Robbed by Bias!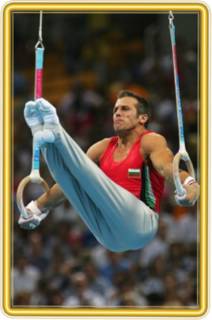 Robbed by Bias

This weekends Gymnastics apparatus finals were marred by an obvious sense of bias displayed by the judges. In the mens rings finals - local Greek gymnast Tampakos, delivered a good (but flawed) routine, with obvious murmurs, and shimmy's during his strength elements. The fact that he drew to go first only makes this bias that the judges showed him all the more obvious. He was followed by Jordan Jobtchev (sorry if this is spelled incorrectly Jordan) - pictured above - , performing an amazing routine. His strength elements performed without so much as a wriggle from the rings, his dismount perfect. It became obvious that something was affoot, when the judges marked him lower when his routine was so clearly better than that of Tampakos. A further routine by Yuri Chechi of Italy, was also superior to that of Tampakos, and yet he only had enough favour with the judges to secure a bronze medal spot behind Tampakos and Jordan of Bulgaria. When all the gymnasts had completed their chance at the rings and the places announced, Juri Chechi openly, wholeheartedly congratulated Jordan on his performance, and in obvious sign and body language indicated to him that in his mind, Jordan should have been 'number 1' and taken the Gold. His sentiments were echoed by several of the other gymnasts who congratulated Jordan, and barely shook hands with Tampakos. Tampakos, strutted and preened to the deafening applause of the clearly elated, albeit gymnastically ignorant Greek crowds. To the judges of that competition...'shame on you'. You allowed crowd support to overcome your duty to reward the best performance of the day, and you have tarnished the Olympic ideal. To Tampakos - although you were not at fault to accept your medal awarded by the judges, you should have been man enough to recognise that on that day, you were not the best. To Yuri Chechi of Italy- thank you for standing up to say what was right, in the face of such support for Tampakos - your example should be an indication to others of the Olympic ideal. Lastly to Jordan Jobtchev of Bulgaria,
your performance was outstanding
, truly one of the best ever seen, and it is
YOUR
performance that coaches the world over will use to inspire their young gymnasts to greater perfection. Well done, you were the
best
at Athens 2004.